Cloud to cloud backup is one of the fastest and easiest ways to protect and recover stored data. System failure, or if the data is deleted due to human error, it can quickly recover from the cloud. This blog post will go through the 5 benefits you can get from cloud-to-cloud backup.
Cloud-to-cloud backup services can provide you with reliability, scalability, immune to ransomware attacks, protection from data loss, and accessibility globally. Also, many software-based organizations (SaaS), Google Apps, Microsoft Office 360, and HubSpot rely on the cloud to cloud backup as its automatic without manual intervention.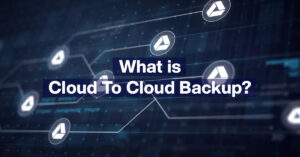 What is Cloud-to-Cloud Backup? 
CTC backup is a popular application for many organizations and SaaS companies to store the data from one device to another. To ensure the continuity of business and recover the compromised data completely. Any application that keeps data or saves a program is the vendor of cloud-to-cloud backup so that you can remotely access it whenever you want. 
Moreover, the production of a program in a computer is stored in CTC automatically without the requirement of an IT staff due to the end-to-end protection of data by SaaS vendors.
The cloud backup service is always ahead of developing cyber threats. However, most backups are created only for providers, so your data may not be protected by a SaaS provider if you haven't actively opted for it. 
Why Cloud Backup are so Important? 
Today's tech is more advanced, but the risk rate also increased. Users rely on the best cloud-to-cloud backup services to keep businesses moving without interruptions. 
However, you must constantly create a cloud backup to protect your data if running a business. 
What if one of your employees or colleagues accidentally deleted all the emails from Gmail without transferring data to a new location, or your computer hits a virus?
This kind of situation may slow down your growth in business if you don't recover your data quickly. Moreover, free cloud backup solutions mark a wide variety of cyber threats. 
The best cloud service saves data automatically or schedules information quickly. A server-based approach protects data in a secure data center, ensuring that any copies you create are safely and securely stored and shared in cloud apps.
Cloud backup solutions provide users the freedom of backing up data off-site. You can protect your data from cyber attacks, ransomware, or natural cause by backing up the cloud. 
Additionally, the cloud backup vendors provide the additional data management features and report everything by tracing reliability. And there is no chance that your data might be affected. 
5 Benefits of Cloud to Cloud Backup 
There are so many benefits to using cloud-to-cloud backups. These benefits have however been grouped into 5 key ones that should help you decide whether or not to use a cloud-to-cloud backup service. Let's dive in.  
By having a cloud-to-cloud backup you can safely store all your data in an off-site location independent of the original data. So in case of a cyber attack, human error, or natural disaster you can get back to your data in a snap. 
Having another layer of backup to your already existing cloud data makes it much more reliable and helps with faster recovery in case of any intervention. 
Moreover, you won't need to worry about manually keeping the backups as most vendors offer a solution to backup data automatically and simultaneously. 
One of the key benefits of having a cloud backup is accessibility. You can access your data from anywhere around the world just by having a connection to the internet. 
You can backup, restore or access your data regardless of time and place. All of which can be achieved without the hassle of keeping complicated hardware or maintaining complex softwares. Cloud to cloud backup is much easier and accessible like never before. 
Cloud backup doesn't need hardware or software licenses. Moreover, the cloud backup software handles the backup size and dedupe for the users. 
Additionally, cloud-to-cloud backup is flexible with its price options. If your backup storage needs to grow, they will provide the updated plan to you. However, if the business decrease, then many cloud vendors update accordingly. 
Cloud storage is expendable as it has unlimited storage level extension just an update away, and stored data is secured in the cloud and monitored by experts.
Many owners don't realize that their system is getting hijacked or hit by a virus until it happens. And the damage to a company's data can be covered by ransomware demands.
Cloud backup ensures that your data is encrypted from one transfer end to another, providing the protection and quality of the data. 
Additionally, the cloud backup solution takes care of the regulation agreements for the users.
Losing your data is the common factor many organizations turn to the cloud to cloud service. It can be a natural cause, cyber attack, or technical defect. 
However, if storage devices, SD cards, Flash drives, etc., data is destroyed or lost, you can't recover it. And that could put you and your business at risk, legally and financialy.
Whereas having a cloud backup will eliminate the risk of data loss, recover faster, and protect from damaging the business reputation.
Bottom Line
If you have a business or organization that deals with some sort of data then you must get a cloud backup service. It will ease you with your business continuation and make your life much easier.  You will no longer have to worry about cyber attack, natural disaster or human error. And the best part, your data will be accessible anytime from anywhere. If you are interested in getting a cloud backup service then check out this article where we go through the best cloud backup solutions for small businesses.