Many organizations use Cloud Data Protection for the ultimate security of documents, emails, and more.
So, what is it, and how can you even protect your business data in the cloud?
Cloud data protection focuses on protecting the data of organizations and companies that are critical, and financial and even reduces the chances of hackers breaching into your data. However, to process cloud data protection, it needs comprehensive strategies, data policies, and solutions for working unitedly. 
Therefore, our experts have explained in detail what Cloud Data Protection is and how it can help to protect your business.
What is Cloud Data Protection?
Companies use cloud data protection to secure and store their data in a cloud environment. The stored data is called data at rest, and moving data is called data in motion, so wherever it's located, it can be manageable by a company or a third-party contractor. 
Furthermore, many companies store their data by creating their own data centers, but now they have changed and choose to store their data in the cloud.  
You must know that cloud security copies your data and security measures it from unauthorized access and distribution. Data protection can protect it from theft or prevent it from being corrupt in the data breach events.
A survey by I.D.G. states that around 73% of companies choose cloud services to secure their sensitive data, and approximately 17 percent would switch next year. However, it is becoming crucial as amounts of data have been transferred by significant companies to store applications and data in the cloud.
How is Data Protected in the Cloud?
Cloud data protection requires backup, disaster recovery, or cloud storage to ensure that your data is secured when data breaches or events occur by unauthorized hackers or people. The first option for saving critical data is encryption.
Anyone who wants to enter encrypted files needs an encryption key to access them. Encryption tech has a by default use of mixed complex algorithms for information protection for cloud storage. 
Moreover, most companies and organizations use cloud protection for data security by employees and hackers to keep them away altogether.
However, as the amounts of data stored in the cloud protection, each organization must understand the inference of a corporation to decrease the chance of data breaches.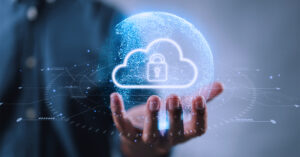 Why is it important for Companies to use Cloud Data Protection?
Companies and organizations are bound to use it to protect from hackers, and they have sensitive data to protect, such as highly confidential information,  financial information, or corporative secrets. 
Also, they are moving data to the cloud. At some point, they need to transfer from the public cloud to more diverse and complicated architecture such as hybrid clouds, multiple clouds, SaaS applications, cloud storage environments, etc. 
However, as most organizations and companies are developing, they are discovering the complexity of security data. Multiple environments are used to store it in cloud centers, and they are required to comply with data protection.
How to Protect companies' Data in Cloud Environments?
Companies and organizations must be built ground up for better performance, scalability, and share responsibilities that can be globally accessible on several platforms. You must first consider checking for protection and security data environments by:
The data they have and where it's originated from

The potential risks of data exposure

Access authority of the application 

Is it suitable to protect the data you are looking for, and at which level? 
Companies must consider provided information to choose which is better according to them, such as giving help to discover, monitor, classify and protect and be able to protect their data in cloud environments. Also, this must include everyday activities and suspicious ones potentially. 
However, you must look for zero trust for cloud security challenges; make specific data cloud security challenges to your organization, users, content, application, and the device to win the trust before making a connection.
The organization using cloud services for flexibility requires zero trust to protect resource access. It will provide you the authority opposed to cyber threats. 
Possible challenges of using Cloud Data Protection
Nine out of ten professional cybersecurity are concerned about cloud security. The most challenging events companies may face are data breaches, lost or threatened sensitive data, and applications being attacked or breached by malicious software while using cloud data protection. 
Moreover, companies should comply with data protection, regulations, and privacy laws such as G.D.P.R., E.U, the Health Insurance Portability, etc. 
Many businesses use cloud protection but keeping data safe over the cloud data is not easy. It comes with several challenges, and here are some of them.
Protection gaps:

There are protection gaps across your organization tools like C.A.S.B., S.W.G, and C.S.P.M. each of them provides an incomplete picture of data protection, and the teams and products may lead to needless, complicated functions across groups, such as makes lack of visibility and data exposure to control across applications.

Encryption:

95% of Google traffic is encrypted, according to the Google transparency report published in 2022. so, you must have a data solution that classifies and controls data in encrypted traffic, or you'll miss most sessions of data exposure, and there might be a chance of misuse. Also, SaaS applications rely on exchanging data for secure and encrypted connections to the applications. 

Limited visibility

and control: Data protection options can help you decide how to use data in the cloud with little information. However, it's impossible to give granular control required to allow effective and safe data usage, like who is an attempt to access and what's the location without full context. 

Poor user experience:

It may frustrate your user due to slow application performance due to not having good internet traffic because of legacy infrastructure in your security devices, yet stuffing it with appliances will be costly and highly impractical. Moreover, legacy architectures were never designed to handle remote access in sudden increments of crisis or accommodate increasing access from anywhere. 
Yet, it can be challenging to establish a security policy covering multiple cloud environments for every company, so it's better to obey the auditors. 
What are the best practices for using Cloud Data Protection?
Firstly your cloud provider does not share responsibilities with your cloud service, and only you have to. However, the provider is allowed to share the responsibility model for ensuring that the hardware and software services they securely provide to consumers are responsible for data access security. 
Many companies aren't achieving high or better security than cloud providers. Alternatively, the charge of infrastructure operations cloud vendor takes action to lose visibility for consumers. When teams and cloud vendors mix up, the possibilities of challenges of operations, hosting, and security responsibilities might rise. 
It begins with policies decided by bt data stakeholders. However, there is some practice an organization must know.
Ensure built-in security for all stages makes your data should be encrypted, and S.L.A.s confirms data protection measures for vendors. 

 You must use I.A.M. or P.A.M. solution, and users must do it, and every application accessibility across the system goes through with this component.

Provide a stable and robust user experience by using the S.A.S.E. framework. It should be placed near the user-level data protection engines to prevent backhauling. 

Automate reports or log generation allows security to track suspicious behavior and helps with compliance audits. However, security updates must be automated and configurable. 
Bottom line
So, here our cyber experts have explained every piece of detail you must know about Cloud Data Protection to keep your personal documents and emails safe from unauthorized breaches. 
In short, you must protect your critical data or amounts of data on data centers in any way possible to keep them safe from hackers and malware propaganda.