Hybrid Cloud Storage Solutions – With the growing reliance on digital data and data analytics, managing terabytes of data on-premises demand significant financial resources. Besides that, the growing vulnerabilities around local data, such as accidental deletion, data corruption, malware attack, and similar other factors demand new ways to manage and protect sensitive data. Hybrid cloud storage is an approach for businesses in this regard to managing data in a secure and cost-effective way based on how valuable the data is for your business. In this blog, we will closely look at what is hybrid cloud storage and then highlight what are the benefits of opting for hybrid cloud storage solutions.
What is Hybrid Cloud Storage?
Hybrid cloud storage is a data management approach that utilizes both on-site and off-site resources in order to manage data storage. While the on-site resource is defined as a private cloud environment running on storage infrastructure owned by your business, the off-site resource is a public cloud environment where your business shares the storage space with other paying users. Thus, a hybrid cloud environment distributes data either on-site, off-site, or both based on how valuable it is to your business.
The resulting multi-cloud approach is an efficient way of limiting the resources your business needs to own its personal private cloud environment. Furthermore, while hybrid cloud storage solutions exist for this very specific use case, it remains the job of your management to decide the distribution of the data across the private and public cloud environment.
Key Benefits of Hybrid Cloud Storage Solutions
Hybrid cloud storage solutions provide an automated and ready-to-go cloud infrastructure that can manage the back and forth data being transferred off-site and on-site. Such solutions come in the form of "Storage as a Service" platforms. If you decide to use any such solution, it can provide a number of key benefits. The most significant benefits in this regard are listed as follows:
1. Reduced Cost
The most crucial benefit of opting for a hybrid cloud storage solution is that it reduces the overhead costs that your business needs to incur. By storing the less valuable and sensitive data on a public cloud storage environment located off-site, your business can reduce the costs it needs to spend on storage facilities in-house on a private cloud storage environment. Hybrid cloud storage services that allow the use of a public cloud to store some data off-site also provide the benefit of a "pay-as-you-go" model where your business will only need to spend money based on the amount of data being stored rather than a fixed package.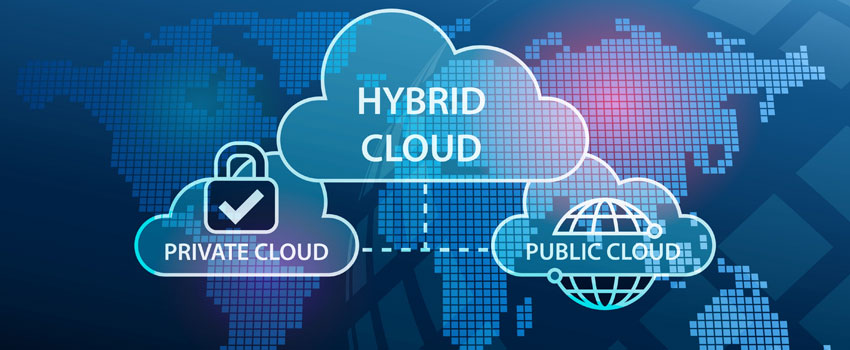 Using hybrid cloud storage services can also reduce the cost spent on human resources assigned to manage data, as your business can automate how data coming from different sources should be backed up.
2. Improved Management of Frequently Used Data vs. Infrequently Used Data
Your business will inevitably be faced with the task of distributing stored data based on how frequently it needs to be accessed. In most scenarios, a majority of the data remains inactive and does not need to be used repeatedly. Therefore, you can filter out the non-sensitive data and store it in a public cloud environment in order to limit the in-house storage resources required.
Not only does the cost associated with managing premises storage reduce by using public cloud management, but your business can be one step closer towards high performance and productivity by removing all unnecessary data that was cluttered with the important and frequently used data.
3. Efficient Management of Private/Sensitive Data
In the present cyber-concerned era, it is crucial for any business to ensure that its most sensitive data remain well-protected. This is why in-house storage facilities using private cloud storage are important for data protection and to maintain a proper level of control over sensitive information.
A hybrid cloud service efficiently manages sensitive data and ensures that less-private data is stored on a public cloud. This ensures that your business spends minimum cost on on-site storage given how much sensitive data you have.
4. Increased Scalability
Hybrid cloud storage solutions allow your business to distribute critical and non-critical data between public and private clouds seamlessly. Thus, a key benefit of removing non-critical data from your in-house storage system is an increase in your ability to scale without worrying about unimportant information cluttering the private cloud. In addition, the amount of storage space you subscribe to with the hybrid cloud service provider is also easily scalable based on your storage needs. Adaptability and flexibility are also a consequence of increased scalability.
5. Remote Accessibility
A major benefit of integrating your business's storage with a hybrid cloud environment is that it provides easy remote access to data for your workforce, regardless of wherever they might be in the world. This is because data and applications stored over an on-site environment are not as easy to access or work upon due to issues such as authorization and lags. However, data placed on a cloud environment can be easily accessible, thus allowing your workforce the ability to access data remotely anytime, anywhere.
Wrapping Up
For those businesses who want to take the advantage of cloud storage but want to keep the sensitive data on-premises, hybrid cloud storage is the best choice for them. Hybrid cloud storage solutions not just make on-premises and cloud storage an automated, hassle-free process, but there are tons of other benefits, such as reduced cost, anywhere accessibility, enhanced security, and many more. To sum up, hybrid cloud storage is a highly recommended storage practice in the present data-driven era. So, lookup for the best service provider out there and elevate your business data management capabilities.