Online Backup Services – Online backup is coming a new normal in the data world to protect business-sensitive data from all kinds of local storage calamities. Online backup does not just mean remote online storage of data, but the other features offered by online backup services, such as file sharing, file versioning, instant accessibility/recovery, and similar others make it a highly valuable resource. But due to the growing popularity of online backups, there are tons of cloud backup services to pick from. So, if you are looking to find the best online backup service that ensures data protection and offers other state-of-the-art features, then this blog is for you. Here we are listing down our top 6 picks of best online backup services.
1. IDrive
IDrive is a versatile cloud backup service that offers all the cloud backup services you need to backup and restore business data in the cloud. Whether you are targeting to do disk imaging backup or want to backup important data from Windows PC, Mac, Linux, Android/iPhone mobile devices, Windows Server, SharePoint, and similar others, IDrive offers unlimited storage for all of them.
Once the data is backed up, it can be accessed from the web browser, mobile app, etc. All the backed-up files and folders get synced in real-time with all the devices linked with IDrive. Besides that, it allows you to share files with others securely. It also offers the "IDrive Express" service from with which you can get faster backup and data retrieval service via physical storage shipment, thereby ensuring no usage of bandwidth. You can test out IDrive services for free with a limit of 5 GB storage space.
2. Backup Everything
Backup Everything stands as one of the easy-to-use, fast, and best online backup services that let you backup Windows, Linux, Mac, Hyper-V, VMware, SharePoint, Office 365, and similar other data sources. In short, you can backup all your devices whether desktops, laptops, servers, or mobile devices, and access the backed-up data from the intuitive web interface or mobile app.
Backup Everything gives you the choice to store data in any of the 8 remote locations of the company server centres located in the EU, UK, Asia, and the USA. In addition, its web portal allows you to remotely control backups of devices, set schedules, and do other similar activities. Besides that, all the backed-up data get 256-bit AES encryption.
3. Backblaze
Backblaze is another reputed name in the market that offers top-notch cloud backup of all the business-critical data from computers, servers, NAS, Veeam, etc. What makes it special is its intuitive and automated approach to backup data from all your devices under affordable plans. Whether you are looking to backup all data from employee computers or want to sync NAS data to the cloud, Backblaze makes it all possible with its simple click-based approach.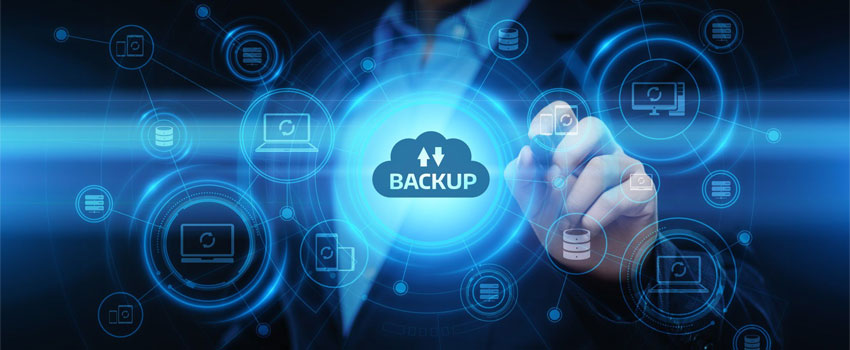 With Backblaze, you can retain versions of files for one year or forever. In addition, it provides centrally managed admin support and smooth backup scheduling, encryption, compression, and ransomware protection. Other than exceptional backup support, it also makes the recovery instant from its web interface and mobile app. To sum up, Backblaze offers all the basic and premium features you need to backup and access business data.
4. Acronis Cyber Protect Home Office
Formerly known as Acronis True Image, the Acronis Cyber Protect Home Office is another best online backup service that offers an intuitive interface to protect files and disk images in the cloud. It automatically captures changes and backs up the data in the background without compromising the performance of the PC. You can keep up to 999 versions of your backup, and you are the one to decide how long you like to keep them backed up.
Other than the key backup offerings, Acronis offers a wide range of other features to elevate your backup experiences, such as private encryption keys, file sharing, file versioning, full-disk backups, folder syncing, active disk cloning, and many more. You can try out the tool for free with its 30 days trial period.
5. Carbonite Safe
Carbonite Safe is known for offering the easiest approach to making online backups with its graphical and easy-to-use backup software. Once the software is installed on your PC, it can keep backing up data into the cloud automatically at the scheduled times. It can backup files and data from desktops, laptops, external storage, and servers to ensure top-notch protection from data loss calamities.
Once the data is backed up with Carbonite Safe, you can restore the entire backup or specific files or folders from any device using the web-based, secure dashboard. Carbonite Safe also empowers you to manage your own encryption private key for Windows PCs. This way, only you will be the person capable to install the Carbonite subscription. In addition, you can also set up two-factor authentication with your Carbonite account for added security.
6. CrashPlan
CrashPlan is a cloud backup software solution for small businesses who want to shift from local backups to cloud backups of computers and reduce their expenses around it. With CrashPlan, you can back up your employee computers no matter the amount of data you upload. In addition, there is no file size restriction and all the data gets 256-bit AES data encryption at rest.
CrashPlan lets you hold deleted files for up to 90 days. It smartly backs up the files that you are working on currently and makes it easy to navigate to previous files versions by date. It also provides external hard drive protection at no additional cost so that you can have a local copy of files for quicker recovery. You can test out CrashPlan for free with its 30 days trial period.
Wrapping Up
When you are looking for the best online backup service, you should first clarify what key features and offerings you need from the service. Once you are clear about what you need, it becomes easier to check out the features list of the available services and make the decision. The above 6 online backup services offer most of the core and essential features you can expect from an online backup service. So, check them out and pick the service that best justifies your needs.