Technological advancements have eased many day-to-day activities of businesses. These advancements have also made businesses more digitalised with more reliance on digital data assets and analytics. So, there is no second thought on the importance of data backups. But the main question is that how effective and reliable are those data backups? Can they ensure complete data recovery in a moment of disaster? Considering the growing data loss possibilities, automated cloud backup can assist greatly in terms of data protection without much effort. Let's explore in more detail that why automate cloud backup should be on your agenda in 2022.
Automated Cloud Backup – Brief Overview
As the name implies, automated cloud backup implies backing up data in the cloud automatically using the offerings of a cloud backup services provider. When a cloud backup provider offers automated cloud backup, then it lets you choose the devices/drives that you want to back up at your set backup frequency, such as hourly, daily, weekly, etc. Once you have configured the settings, the service ensures complete and accurate backups using the backup software at your set schedules without even bothering you. All the backup processes, such as file syncing, file versioning, and similar others execute in the background without compromising the productivity of any personnel.
Key Benefits of Automated Cloud Backup
Most of the online backup services today offer automated cloud backup support to make data backup a hassle-free process. Here are some of the key benefits associated with automated cloud backup: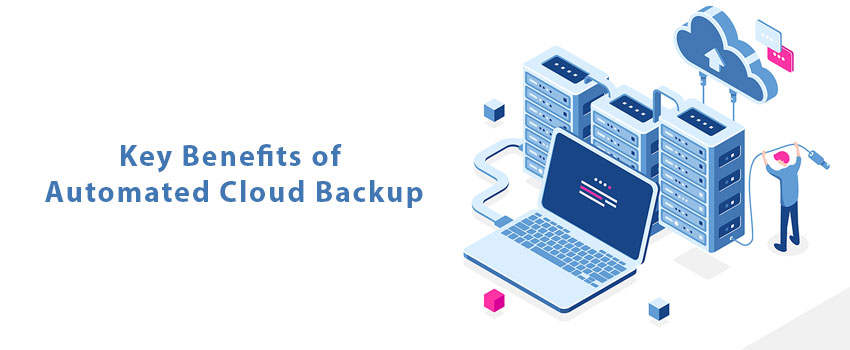 Cost-Effective
Backups are the need of every business today, but ensuring local backups require more hardware, physical space, software purchase, and regular maintenance. Therefore, it becomes a lot expensive to maintain local backups, especially when you are running a small business.
When you opt for automated cloud backup services, you get rid of all the local backup expenses. All you have to do is pay monthly/annual subscription charges based on the storage space plan you pick. And that's it. No other extra hardware or maintenance charges. This way, your backups can go flawlessly and automatically to the remote servers of the cloud services provider at a fractional overall cost.
Better Disaster Recovery
No business knows when it can face any data calamity. Situations such as
+and similar incidents can occur anytime. Backups are made for disaster recovery, but they must be up-to-date to ensure complete recovery without any data loss.
When you opt for automated cloud backup, you are not just saving your data from all local data disasters, but you are also making frequent and regular backups of your data. This way, you can have effective disaster recovery, with minimal downtime and almost no data loss.
Scalability
Backup needs do not remain the same all the time. As your business grows, your backup needs also grow. Expanding the infrastructure of a local backup is quite expensive and time-consuming. You can allocate more physical space, purchase new hardware, and even expand the IT team.
On the other hand, scalability is a lot easier and quicker with automated cloud backup services. All it takes is subscribing to a higher backup plan that offers the storage space you need and covers the number of devices you want to back up.
Secure
Today businesses have to deal with many security threats, such as malware/ransomware, phishing scams, data breaches, DDoS attacks, and similar others. Therefore, it is crucial to keep your data and system secure with top-notch cybersecurity measures.
Other than streamlining your backups, automated cloud backup also offers effective security to your data. Almost all cloud backup services offer data encryption
. For example, Carbonite Safe offers AES 128-bit encryption, while Backup Everything offers AES 256-bit encryption. Moreover, some also offer an encryption private key so that only you can access the data. In short, your backed-up data is a lot more secure when you opt for cloud backup.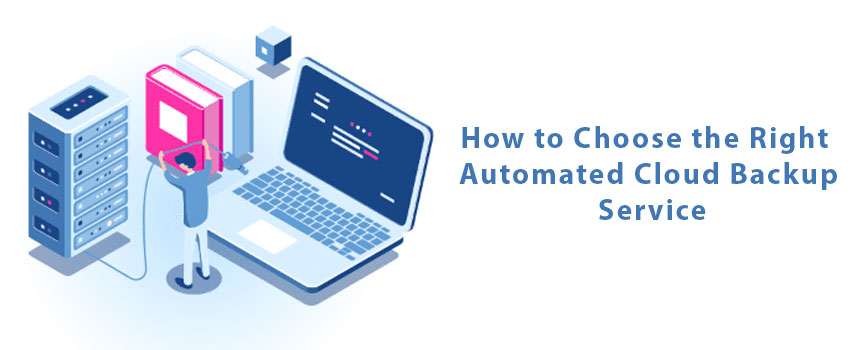 Flexible and Reliable
Since different businesses have different backup needs, the backup options you choose must give you the flexibility in orienting the backups as you want. This way, you can ensure effective backups without spending much time.
Automated cloud backup gives you the convenience and flexibility you need. You can configure the service as per your needs. This implies that you can set the backup frequency as you want, manage access control, or even add an extra protection layer. In short, automated cloud backup is like a data insurance policy that streamlines your backup operations and offers top-notch data protection.
How to Choose the Right Automated Cloud Backup Service?
Now that you know what benefits automated cloud backup can bring for your business, let's shift our discussion on how to choose a reliable cloud backup service. If you search for automated cloud backup, you will find dozens of cloud providers offering this service. So, it can become challenging to pick the right one out of many options. Here are some key features that an ideal automated cloud backup service should be offering:
It should offer best-in-class data security, such as data encryption, multi factor authentication, access control, encryption keys, and similar other measures you want.
It should offer an intuitive, user-friendly web interface and click-based functionalities.
It should ensure accurate backups with errorless syncing services to backup all data effectively no matter the file size. Moreover, the upload speeds should also be fast.
It should give you the freedom on choosing the backup frequency you want.
It should offer effective disaster recovery with fast data restoration, either single file or the entire system. If it sends an external hard drive by post containing the backed-up data, then it's a bonus service.
It should offer multiple backup plans with competitive pricing and advanced features, such as file sharing, access control, dashboard, etc.
It should hold a good market reputation and supportive customer reviews.
In a nutshell, you should evaluate what features and services you want for your business, and shortlist a few automated cloud backups services. Afterward, finalize the best one out of them based on the above-listed features or other offerings you are targeting.