Cloud Backup Solutions – The technological advancements of the 21st century have made us data-driven. Easy and cheap access to the internet, smartphones, social media apps, remote working, instant data sharing, and plenty of other activities of today's era all revolve around digital data. Eventually, this has turned digital data into a valuable asset for everyone. Owing to that, we can see a massive surge in the demand and use of cloud backup solutions. Besides that, the COVID-19 pandemic has taken cloud popularity to a whole new level. This blog provides a comprehensive overview of the impacts of cloud backup solutions and then highlights what role COVID-19 played in the popularity of cloud services.
Impacts of Cloud Backup Solutions
With the growing reliance on digital technologies, cloud backup services have been a rescuer of digital data, helping avoid data loss situations greatly. Here we are listing down the top four positive impacts of cloud backup solutions that are playing a key role in the worldwide popularity of cloud services:
1. Financial Impact
Data backup is a mandatory practice for every business today no matter its size or industry. Any data calamity or downtime can result in a hefty loss of revenue and reputation. But setting up an on-premises backup centre is a lot more expensive compared to a cloud backup solution.
To set up an on-premises backup system, you need to purchase backup drives, such as external hard drives, network-attached storage (NAS), USB drives, or other storage devices. Similarly, you need backup software, IT staff, and a physical location to set up a backup server room. In addition, regular system maintenance, updates, and similar other cost factors are also associated with the on-premises backup centre.
So, one major impact of cloud backup solutions is the exceptional financial advantage for businesses. All it demands is subscribing to a cloud backup plan and that's it. All the expenses related to local backups just go away. Other than financial benefits in terms of storing data backups, online backup services also save your finances from data loss, cyber-attack, floods, or other data calamities.
Security Impact
Over the past few years, the concerns around cybersecurity are becoming more intense due to uncontrolled cyber-attacks and data breaches. In fact, the data breaches count for the year 2021 has already surpassed that from the year 2020. When a business is hit by a cyber-attack, business-crucial data becomes the first vulnerable thing. Although organizations are focusing on enhanced cyber-security measures, still attackers are managing to find loopholes and bypass the security.
Since data is a highly valuable asset for businesses, keeping it in local backup servers isn't enough. If attackers manage to enter your main systems, then why cannot they access your local backups? That's why another prominent role played by cloud backup solutions is their enhanced security offerings.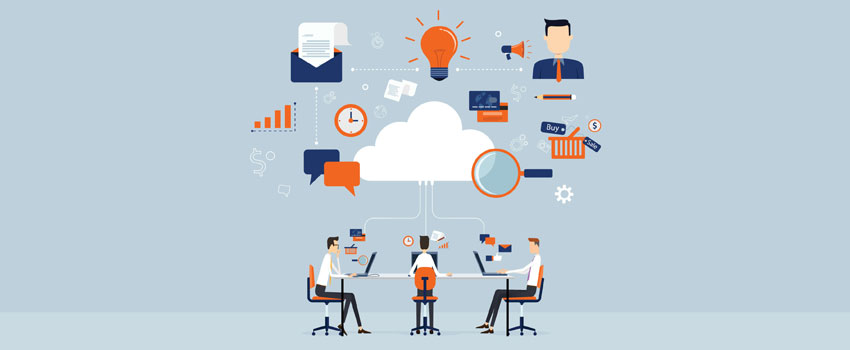 When you upload files and all other data to the cloud, they become safe from all local data calamities. Other than that, backup services offer top-notch security to your data. For example, services like Backup Everything, CrashPlan for Small Business, Carbonite Safe, and similar others offer 256-bit AES data encryption. Some services even offer encryption keys so that only the person holding the private key can access the data. In short, the top-notch security benefits available with cloud services is another reason why we are seeing more practice of cloud backups.
Technology-Driven Data Backup
In the past, the concept of data backup was to store it locally in some drive and access it if the original data gets corrupted or lost. But the technological advancements have changed the concept of data backup. Today, data backup also means anytime, anywhere data accessibility and instant recovery.
So, the third impact of cloud backup solutions is that they have advanced the concept of data backup according to what the present corporate world demands. For example, a cloud backup service continuously backs up the new data with auto-syncing services but retains file versions during the file syncing process so that you can easily restore back old versions of deleted files. Similarly, cloud backup is accessible from a number of devices from anywhere, anytime. Overall, cloud backup enhances the backup capabilities of businesses with rich features under cost-friendly storage space plans.
Disaster Management
Data loss is a situation that almost every business encounter either due to accidental deletion, drive malfunction, software corruption, natural disaster, or data breach. Local data backup is one way to avoid data loss, but it is vulnerable to the same threats. Businesses cannot just rely on local backups only for disaster management. The best practice of disaster management is to have business crucial data backed up on-premises and at a remote location.
So, the fourth impact of cloud backup solutions is changing the concept of disaster recovery planning. Since data loss is becoming more common and local backups cannot alone address the growing backup needs, remote-based backup in the shape of cloud backups is the new trend. Some businesses are even practising hybrid cloud backup, where they back up business-sensitive data on-premises / private cloud, while the less-sensitive data gets backed up on public cloud servers. In short, cloud backup solutions have enhanced the disaster recovery capabilities of businesses.
COVID-19 & Cloud Popularity
The COVID-19 pandemic triggered the environment of remote and home working culture. With this shift, the reliance on cloud computing was pushed greatly. Remote working required tools and services for remote collaboration, remote file sharing, remote accessibility of corporate data, and similar other elements, which were all possible with the help of cloud storage and computing services.
So, as the world adjusted itself with remote working, the usage of cloud backup solutions and cloud computing services became a new normal. Businesses that were showing resistance to cloud culture had no choice but to practice cloud computing. In short, whether it's cloud computing or cloud-based backup or storage, the COVID-19 pandemic is playing a key role in the worldwide popularity of cloud technology.