In this digital era, when our personal and business activities rely on computers and the internet, we cannot risk to lose our important files and data. Digital data is more valuable to us than ever before. Digital marketing is the new norm for businesses that majorly runs on data analytics. In all such scenarios, data backup comes up to be the true savior of data from any kind of data loss due to hardware malfunction, natural disaster, drive failure, data breach, cyber-attack, etc. In this blog, we are presenting some of the best backup PC software in the market that guarantees data protection in all scenarios. So, let's get right to it.
Best Backup PC Software
With the growing digital data concerns, there are a number of backup software in the market now, but not all of them are efficient or resourceful to address all kinds of backup needs. Following are the 5 best backup PC software that truly values the data protection and backup for their customers:
1. Acronis True Image 2021
When it comes to backup software for PC, Acronis Ture Image is considered the best, intelligent, and most-powerful software. Acronis True Image backup program enables you to have a data backup of any kind, whether it can be system image backup or other personal or business files and data. Other than backup, it provides out-of-the-box real-time protection and defense system that saves your PC from any kind of cyber-attack. The user interface is easy to use and provides a comprehensive overview of the backups, file history, antivirus scan, and similar other details. It also replicates all the local backups to the cloud automatically, ensuring that there is always an off-site backup copy of your data. The other key features include active disk cloning, non-stop backups, access to cloud backup anywhere, instant data restoration, etc.
2. NovaBACKUP
NovaBACKUP is a Windows backup software that provides both local and cloud backup for your data. The software is known as a fast, reliable, easy to use, and cost-effective tool that values the importance of user data and provides comprehensive protection and security. The data is protected with AES 256-bit military-grade encryption, ensuring that no one other than you can access the data. You can set up automatic backup schedules, where you can let the software carry out incremental, differential, or full backup of data in the background. It can extract data from any NTFS formatted drive, and can backup data to NTFS formatted drives, single tape drives, or NAS. The software also intelligently compresses the data, enabling around 10-25% storage reduction.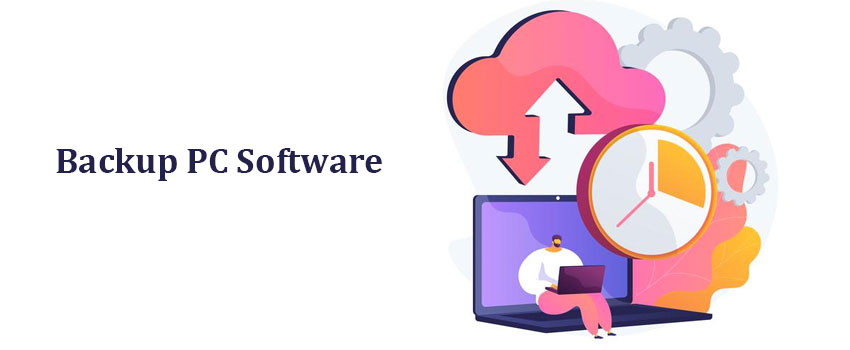 3. Paragon Backup & Recovery
Paragon Backup & Recovery is a comprehensive backup and restore software that provides a simple and user-friendly backup of disks, partitions, folders, and the whole system files. You can use the software for manual backups or set up schedules to make automatic backups of the data. It also provides Recovery Media Builder that lets setting up a WinPE-based bootable setup on an ISO image or a USB drive. Other than the easy backup process, the software has also a simple to use recovery process, where you can able to restore the files individually or restore the entire system instantly.
4. FBackup
When it comes to a simple interface with a guided approach, FBackup is a true companion for such cases. FBackup is a PC backup software that lets users conduct a backup with the help of a friendly wizard that asks where to back up, what to backup, how to run the backup (full backup or mirror backup), and when to backup. You can use the software for manual backup or let it backup data automatically at a scheduled time and date. You can either set the backups as a full backup (standard zip files of backup) or mirror backup (original backup copies without any compression). As the tool has a simple backup process, the data restore process is also user-friendly. All you need is to open the restore wizard and tell where you like to restore the selected data, such as local drives, external hard drives, etc. It also provides support for cloud backup, where you can link your Backup software with your Google Drive or Dropbox account and send the backed up data to the cloud with just a few clicks.
5. EaseUS Todo Backup
EaseUS Todo Backup is an award-winning free disk imaging backup tool. It provides a user-friendly one-click backup interface and an instant recovery system. Like other tools, it also provides manual backups or scheduled-based automated backups. You can backup individual files or create a system entire backup hassle-free. It allows full backup, incremental backup, and differential backup. With its cloning features, losing your files is no more a concern for you, as you can clone partition or disk sector by sector and make full copies. It supports multiple storage devices, such as SSD, HDD, USB drive, NAS, RAID, DVD, network shared location, and many more. With over 20 million customers and a market experience of more than 15 years, EaseUS Todo Backup is in-short a highly-reliable, powerful, and efficient backup PC software.
Conclusion
When it comes to PC backup software, it is not a good idea to just randomly pick a backup tool and start using it. Any software that is good for someone else may not be that productive for you. Therefore, evaluating the backup software before finalizing is always a recommended approach. But if you still remain confused, then you can choose the one that covers all the basic backup needs effectively. Out of all the above 5 best backup software, Acronis Ture Image is one of the best ones because it not just provides a user-friendly backup setup, but the cloud backup and cybersecurity aspects also make it outclass other software.